By Megan Pooler
For a high-energy mix of ancient culture and modern living, look no further than Saigon, Vietnam. Officially called Ho Chi Minh City since 1975, but still commonly referred to as Saigon, this bustling city offers superb sights and activities for travelers on their own or with WanderTours. Whether you're looking to soak up history in a museum or experience a vibrant local market, here are some exciting options for your visit to Saigon.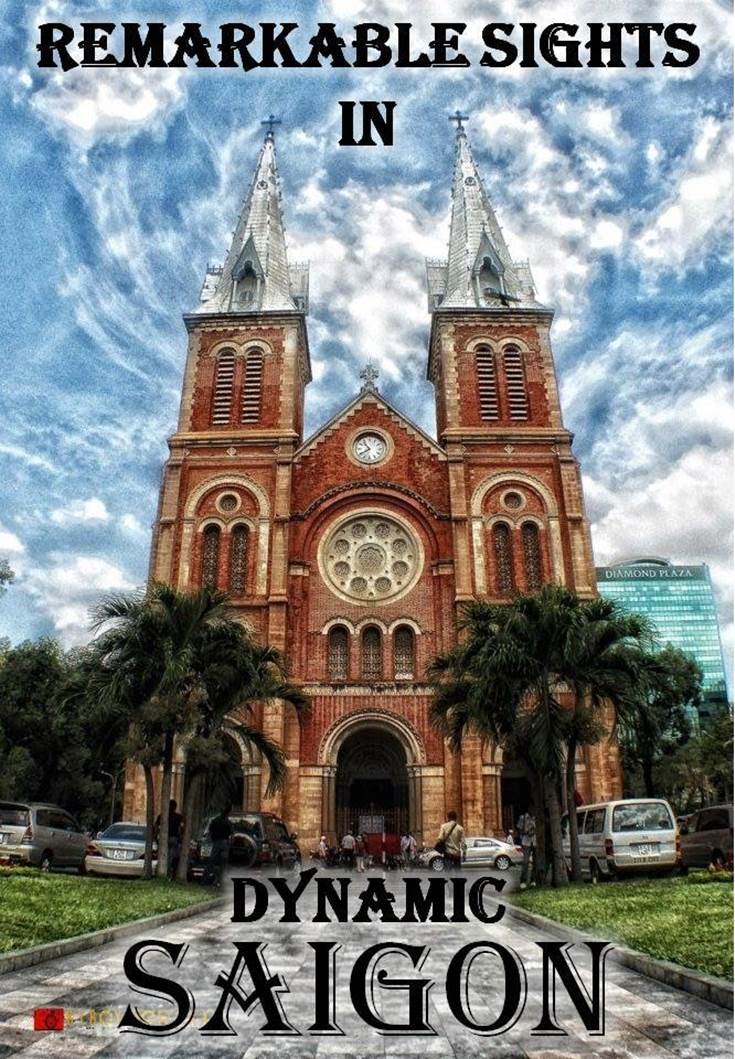 More about Vietnam: Facts about Buddhism in Vietnam | Pho | Weird Foods of Vietnam
Dong Khoi Street
Saigon has been inhabited since the Khmer Empire (800s-1400s), but much of its present layout dates to the French colonial era (1860s-1954), when Vietnam was part of French Indochina. While colonial rule was often a source of conflict and violence, some of the city's most charming architecture dates to this period and should not be missed.
Enjoy a scenic stroll down Dong Khoi Street, where you'll see many buildings that make you feel more like you're in Paris than in Vietnam. Take a break to people watch at one of the street's many cafes or window shop at a high-end boutique.
Begin your walk at the Continental Hotel Saigon, an elegant building built in 1880. For a sumptuous meal, the hotel's ground floor restaurant is open to the public.
Next is the pearly Saigon Opera House, designed by French architect Eugene Ferret in 1897, complete with lavish pillars and carvings. Between 1956 and 1975, the opera house was home to the South Vietnam Assembly House, but today hosts concerts and performances.
Send a postcard home from the Central Post Office, which was designed by Gustave Eiffel. Inside, the soaring ceiling and curling wrought iron will remind you of his Eiffel Tower. There are also maps of the region from 1892 painted on the ceiling.
Notre-Dame Basilica towers over Paris Square, the end point of Dong Khoi Street. Built in the late 1880s for French Catholic colonists, it is still used regularly for services. The cathedral's red bricks were imported from Marseilles.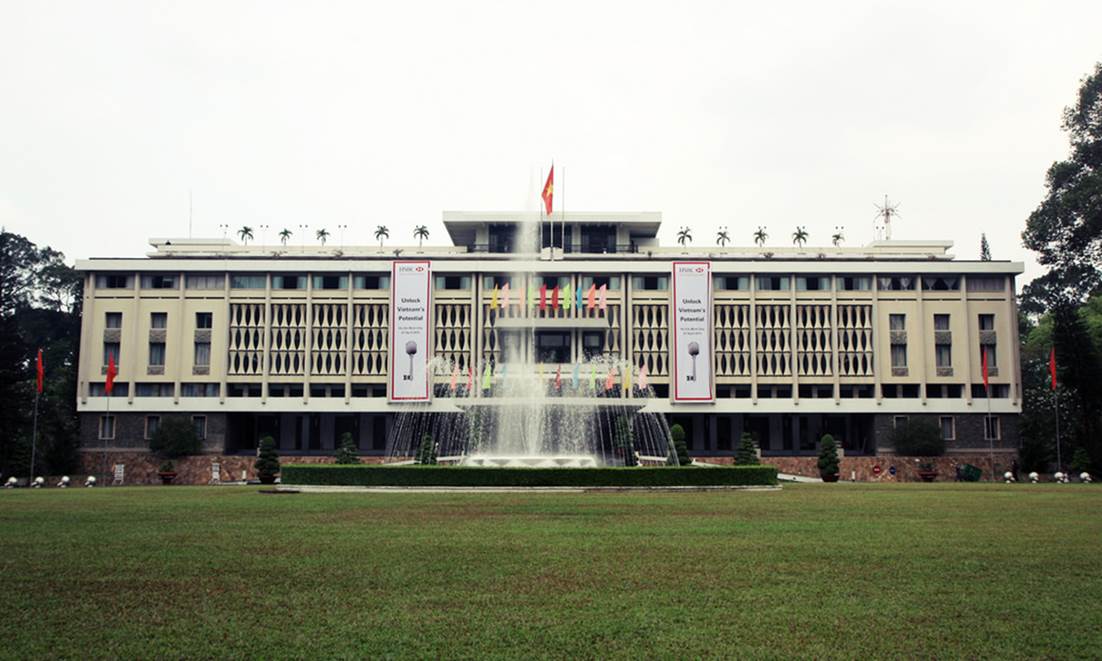 Presidential Palace
An imposing example of 1960s architecture, Saigon's former Presidential Palace marks the site of many governmental changes in Vietnam's complex political history. The location was originally the French governor-general's home, built in 1868. After the end of French rule, the palace became home to the South Vietnamese president Ngo Dinh Diem. However, the building was heavily damaged during a bombing by Diem's air force, which was an attempt to assassinate the unpopular leader. Diem survived and ordered construction of a new home, but he died a year later and never saw the finished building.
The new residence was called Independence Palace from 1966 to 1975 and remained the home of South Vietnamese presidents. In April 1975, North Vietnamese tanks crashed through the gates of the palace, leading to the surrender of General Ho Chi Minh and the end of the war. The Communist government renamed the residence Reunification Palace. Today, the palace is still used for official functions. Tours include entertainment spaces that are all still decorated in lavish Asian-meets-1960s décor.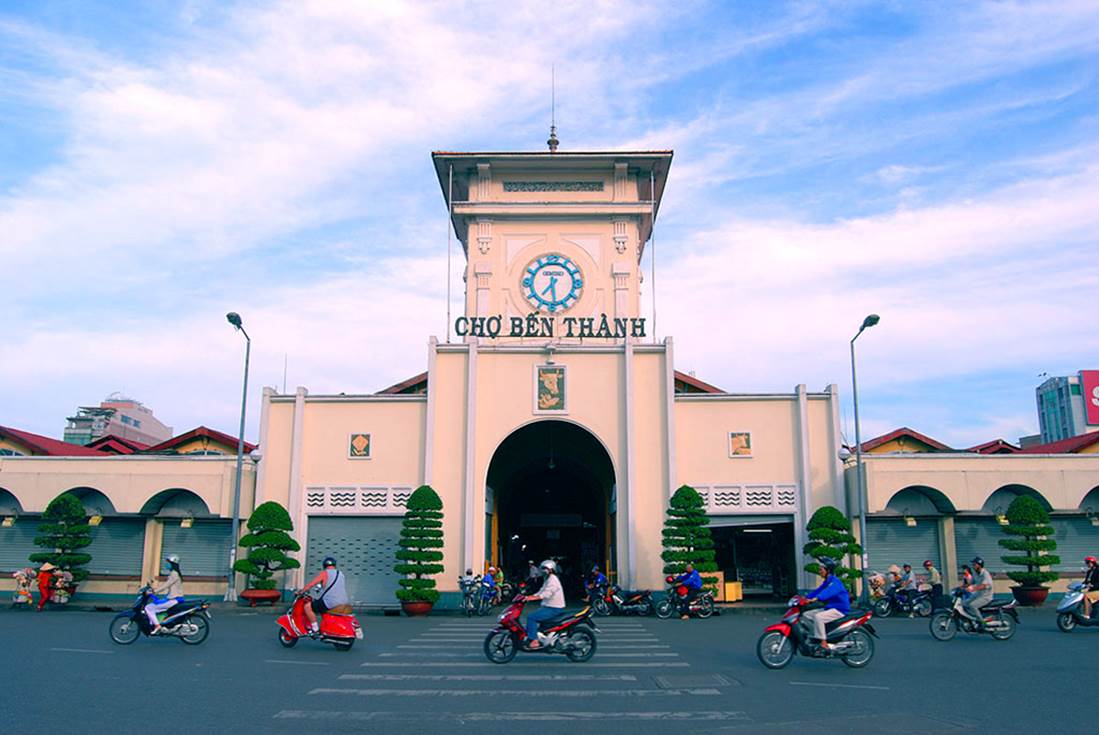 Ben Thanh Market
Ben Thanh Market, a lively covered market in central Saigon, is the place for local food and handicrafts, including bags, jewelry and home goods. Food stalls offer made-to-order traditional Vietnamese dishes, fresh produce and coffee. As you wind through the rows of stalls by yourself or on our tour, you'll see an array of clothing and goods used in everyday life by city locals. Bargaining is expected at Ben Thanh, even at stalls with signs indicating fixed prices, so be bold, have fun and bring home the perfect souvenir! As in any crowded market, keep a close eye on your valuables. Many stalls close in the late afternoon, so visit the market in the morning for cooler temperatures and greater variety.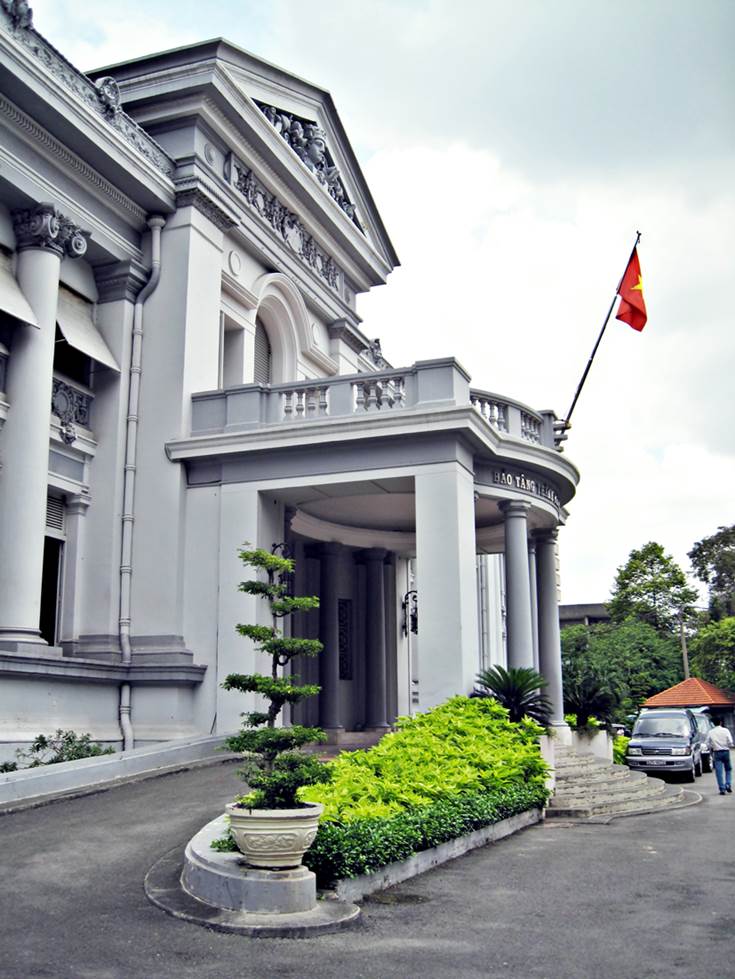 Museums
Saigon has several museums for those interested in learning more about its ancient culture and complex history.
Housed in a former palace finished in 1885, Ho Chi Minh City Museum documents the city's history. Inside, archeological artifacts and a collection of ethnic clothing bring the city's ancient culture to life while photographs and remains from the Vietnam War focus on more recent history. Don't miss the artillery and tanks from the Vietnam War located in the surrounding garden.
Not far outside the city, the Cu Chi Tunnels are part of an underground system built during the Vietnam War, known locally as the American War. The North Vietnamese built tunnels across the country to combat the better equipped South Vietnamese and American forces. This extensive network, with more than 150 miles of tunnels in this area alone, allowed soldiers to launch surprise attacks, store weapons and even live safely underground. Today, visitors who aren't bothered by tight spaces can explore some of these tunnels, including trap doors and living spaces.
To learn about traditional Vietnamese medicine, head to the FITO Museum (also called The Museum of Vietnamese Traditional Medicine). Vietnamese medicine is closely related to Chinese medicine and focuses on the use of plants and herbs with medicinal properties. These practices date back several thousand years and are still widely used today. The FITO Museum contains a collection of ancient medical implements, such as mortars and pestles, as well as displays describing the philosophy and practice of traditional medicine. This compact museum offers a unique perspective on Vietnamese culture.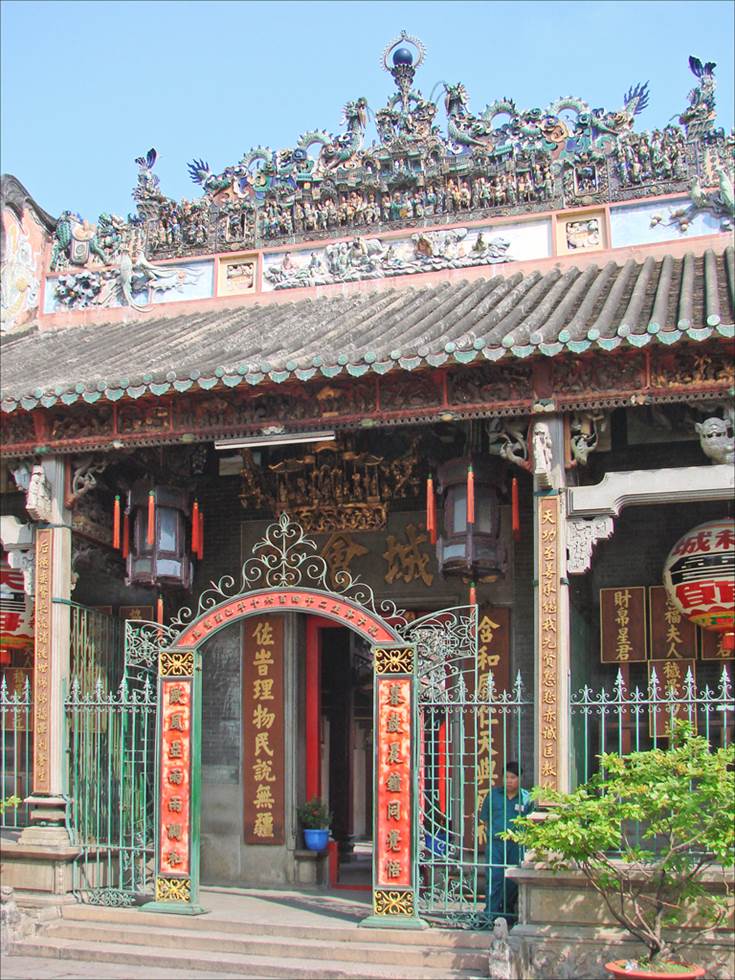 Pagodas
For a glimpse into local faith, Saigon's temples are rich with history and thick with the scent of incense.
Located in Cholon, Saigon's Chinatown, the Thien Hau Pagoda is dedicated to a Chinese goddess and a stop on our Vietnam and Cambodia tour. Thien Hau is neither Buddhist nor Taoist, but is honored by Asian seafaring cultures for her ability to protect and rescue ocean travelers. This ornate temple was built in the early 1800s by Chinese immigrants as a sign of gratitude for their safe journey to Saigon. Three elaborate and colorful statues of the goddess and many porcelain dioramas of daily life keep your eyes roving over the intricate details inside this popular pagoda.
Giac Lam Pagoda, a Buddhist temple, is believed to be the oldest in Saigon, built in 1744. In the pagoda's walled garden, you'll see a large Bodhi (fig) tree. It is believed Buddha found enlightenment while meditating beneath a fig tree, making them sacred to Buddhists. Two different statues of Buddha are in the main sanctuary. One is of Amitabha, the Buddha of immeasurable light and life. The other is Ameda, the Buddha of wisdom, enlightenment and compassion. With its many altars and peaceful garden, this pagoda offers a quiet respite from the activity and hustle of Saigon.
To stay up-to-date on all things WanderTours, follow us on Facebook and subscribe to our blog via email or RSS.
*****
Photo credits:
Notre-Dame Basilica: w a n t o i i via Flickr
Presidential Palace: Andrea Schaffer via Flickr
Ben Thanh Market: Riza Nugraha via Flickr
Ho Chi Minh City Museum: @felixtriller via Flickr
Thien Hau Temple: Jean-Pierre Dalbéra via Flickr