Bari Ewing traveled to Bali and Java with WanderTours in September 2015. In this Q&A she recollects some of the highlights of the tour. If you'd like to follow in Bari's footsteps, please check out the itinerary for yourself.
Q. How did you hear about the Bali and Java Tour?
A. I found WanderTours on the internet in 2011 after searching for tours to Asia. I had emailed back and forth with Beth since then, but could never make a trip work financially or with my schedule or life at the time. Beth emailed me the summer of 2014 and said there was a trip to Bali. I sent her the deposit that night.
Q. What made you decide to join the tour?
A. The timing was finally right for me. I wasn't in school, I was a little more stable financially and I really wanted to see the world. Indonesia had always been on my radar since I was a little kid and learned about orangutans, which are native to an island we didn't visit. I had unsuccessfully planned a trip to Indonesia when I was 18 to see the orangutans on Borneo and some other islands. I was intrigued by this nation of islands with all its jungles, volcanoes and biodiversity. Being 18, though, my parents were not keen on the idea, and it never really panned out. Finally, 15 years later, I could go. One day I hope I'll make it back to Borneo.
Q. You travel a lot for work. Had you ever traveled as part of an organized tour before?
A. I did a tour to Greece when I was a teenager which was awesome. I like that tours are all planned out for you. Tours mean less stress. At this point in my life and career, what I need is less stress. I wish I could say I'd done a ton of tours, but ask me again in 30 years.
Q. What did you think were some of the best benefits of traveling with a women-only tour?
A. As an engineer, I work with mostly men. So I tend to treasure my time with groups of women. I find I love groups of different-aged women. There is just a shared experience women tend to have. I also figured a women-only tour would get more into the cultural aspects and how women live in that country. Finally, it just gets rid of the dreaded mansplaining and other sometimes less than favorable traits men can have.
Q. What was the highlight(s) of this trip for you? Why?
A. I felt great because I was truly away from work. I enjoyed every minute of experiencing a different culture and seeing somewhere quite unlike from where I live.
I appreciated learning so much information about everything the tour guides could think to tell us or we could think to ask. We had the most incredible tour guide when in Java. Atik was just a neat person to get to know. We were both single and in our 30s, so we could compare how that's different or the same on the other side of the world. She was energetic and incredibly knowledgeable. I found I just wanted to spend more time with her. I am so grateful to be Facebook friends with her now.
It sparked my interest in world religions. I loved being in a predominately Muslim country. To hear the call to prayer and see all the mosques in every town was pleasing. I got a different view of Muslims and Islam. The temples were beautiful and I loved learning the history of Buddhism and Hinduism. In Bali the Hinduism and animism was completely fascinating. Hinduism that seemed different from what my Indian friends practice. It all seemed to come together to a friendly and beautiful culture.
Seeing volcanoes up close and personal at Mt. Bromo and Mt. Ijen was awesome. I'd only ever really seen extinct or inactive volcanoes from a distance in the past. And being somewhere fairly remote just made me feel l that I was seeing something that most of the people I know will never see.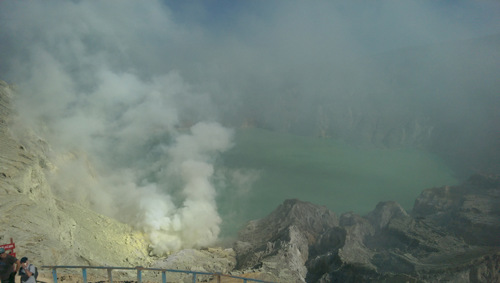 Q. What did you learn about yourself, on this trip?
A. I learned that long-haul flights and 12-hour time changes are completely doable and worth it. I confirmed that I love experiences and learning about new things as in world travel. I really spent every day on the trip thinking "best day ever." I learned I have an interest in world religions and the history of religion. This trip made my world bigger and smaller at the same time. It opened up a vast world I have yet to discover, and it made Indonesia and its people not seem so far away or foreign.
Photo credits: Bari Ewing