A picture is worth a thousand words. This saying particularly holds true for the kingdom of Bhutan. It's impossible to describe the country's magic in words. Many of our tour participants on our Bhutan Women-Only Culture and Festival Tour leave feeling greatly affected, whether by a spiritual shift or inspiration from the surrounding natural beauty.
Related Articles: How Bhutan Showed Me I Can Do Anything | Bhutan by Way of Cherry Street
One of the things our tour peeps love best about Bhutan is the people. They are warm, friendly, generous and thoroughly immersed in their ancient traditions and beliefs. Our tour participants love being able to participate in the unique experience of dressing in the traditional dress, the kira.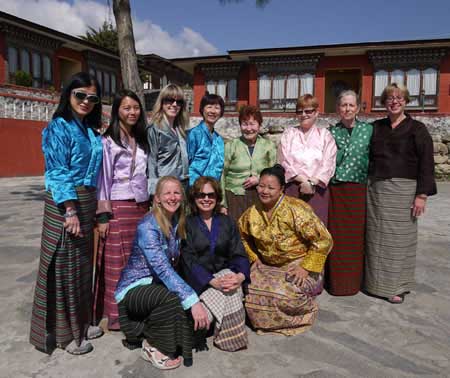 The spirit of Buddhism is prevalent throughout the country with evidence of it everywhere we visit. Prayer flags, inscribed with prayers and mantras, flutter in the breeze throughout the Himalayas. It's believed the flags generate prayers that are released into the air as they blow in the wind. Anyone touched by that wind will be happier, due to the blessings released by the flags.
Prayer wheels contain scrolls that are inscribed with mantras. Turn the prayer wheels clockwise to activate and release the mantras inside.
A Stupa or Chorten is a a spiritual monument representing Buddha. Each stupa contains holy relics and shapes differ, depending on the country. While stupas in Nepal have a classical shape and have a pair of eyes painted on the side—representing the all-seeing eye of Buddha—chortens in Tibet have a flared, rather than domed top, and chortens in Bhutan are square stone pillars that always have a red stripe around them.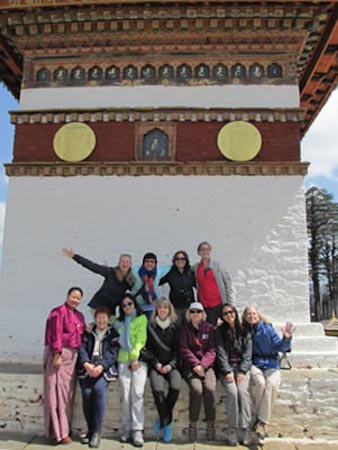 One of the highlights of our tour is the hike to Tiger's Nest.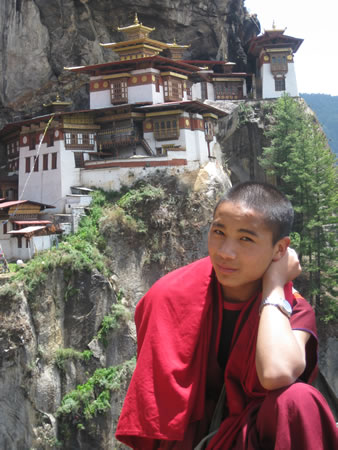 At the end of our tour, it's tradition for us to show our gratitude by presenting our tour guide(s) with gifts from home.
Embrace life,
Pat
To stay up-to-date on all things WanderTours, follow us on Facebook and subscribe to our blog via email or RSS.

Photo Credits:
All photos – Beth Whitman