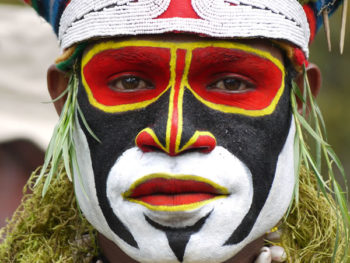 HIGHLIGHTS of the Papua New Guinea Mt. Hagen Cultural Show Tour:

* Experience the Mt. Hagen SingSing, which attracts approximately 75 tribes from around the country
* Attend the Paiya Mini-Show where a small number of tribes perform in advance of the Mt. Hagen SingSing
* Boat down the impressive Sepik River, known for its vast bird life, including birds of paradise
* Experience a homestay in a small village along the Sepik River
* Visit the Goroka region, the home of the Asaro Mudmen
* A 5% discount on land costs for returning WanderTours participants
Interested? Contact us to get on the list for details as soon as they're available.
Resources:
PNG FAQs
PNG Photo Gallery
Testimonials