By Rebekah Bresee
Surrounded by lakes and bordered by the Gulf of Mexico, New Orleans is not lacking in supply to cook up some tasty seafood. In fact, The Big Easy is known for its seafood—raw, fried, boiled and mixed with French-Creole and Cajun influences. If you join us on our New Orleans Culinary Tour, you will get to experience a variety of New Orleans cuisine as well as have some time to explore the city's restaurants on your own. Be sure to try these classic New Orleans seafood dishes!
More to explore in New Orleans: Cocktails Created in New Orleans | Jazz in NOLA
Seafood Po-boys
A New Orleans specialty, po-boys are sandwiches packed with fried seafood (as well as other kinds of meat, but you know you're here for the seafood!), lettuce, tomatoes, mayonnaise and pickles. Ask any local and you'll find the key to a good po-boy is the bread—crisp on the outside, moist and light on the inside. You can find them at almost every food-truck and restaurant. They can be filled with shrimp, oysters, lobster, soft-shell crab or a combination of those.
Oysters
Eat 'em raw, fried, charbroiled or smoked. The Big Easy has some of the freshest, cheapest and tastiest oysters in the USA. Raw oyster bars can be found throughout the city, and restaurants serve a variety of oyster-themed dishes. A must-try dish is Oysters Rockefeller—half-shell oysters that are topped with seasoning, vegetables and sometimes cheese, and then baked.
Soft-Shell Crab
Soft-shell crabs are a seasonal delicacy and are served more frequently during spring and summer months. Try it fried or smoked, served with vegetables or on a po-boy, at a Cajun dive or an Asian restaurant. Any version of this seasonal crab ensures a delicious and well-prepared dish.
Blue Crab
It is the name of a notable restaurant in New Orleans, but also a delicious entrée served at many seafood dives. The most popular preparation of blue crab is boiled, buttered and served with vegetables. Blue crab cakes are delicious appetizers and stuffed blue crab is enjoyed by tourists and locals alike.
Seafood Etouffee
A classic Cajun and Creole dish, etouffee is a shellfish dish, sometimes mixed with vegetables, and served over rice. It is similar to gumbo, but etouffee is thicker in texture and lighter in color. It is also always shellfish-based, while gumbo uses a variety of meats. Crawfish and shrimp etouffee are the most popular versions of the dish.
Shrimp Creole
You may find this dish outside of Louisiana, but you'll only find it at its best in New Orleans. Fresh peeled shrimp is cooked with a sauce comprised of onions, peppers, tomatoes and Southern spices. It is a lighter dish with all the same delicious flavors of all New Orleans cooking.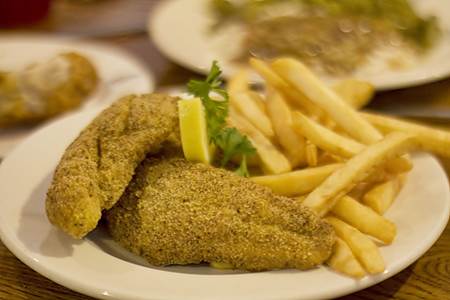 Catfish
You can't visit Louisiana without indulging in some catfish. Fried catfish is, by far, the most popular version of the fish, and many restaurants have made a name for themselves based on their versions of the dish. If you want to go especially Southern, pair your catfish with hush puppies or collard greens.
Must-Try Restaurants
You will have an opportunity to visit and try the food of many great restaurants during your NOLA food tour, but if you have some extra time, be sure to stop by Antoine's, Galatoire's and Bon Ton Cafe. These are top choices when getting Oysters Rockefeller, fried catfish or crawfish etouffee.
To stay up-to-date on all things WanderTours, follow us on Facebook and subscribe to our blog via email or RSS.
*****
Photo credits:
Oyster Po-boy: Shreveport-Bossier Convention and Tourist Bureau via Flickr
Stuffed Crabs: Quinn Dombrowski via Flickr
Fried Catfish: Kent Wang via Flickr