I knew New Orleans had a reputation for being haunted, I just never knew that many consider it the most haunted city in the country. It's common to come across references to ghosts and locals love to share tales about the most famous of the city's spirits. If you're staying in the French Quarter—the oldest section of the city—where many of the buildings have been around for hundreds of years, you may even have a paranormal experience of your own.
I was in NOLA for the WanderTours Culinary Tour. My first clue should have been the "Apartment for Lease" sign I saw before the tour had even begun, complete with a reassuring added note: "Not Haunted." It's not a sign I've ever encountered before; in fact, it's not something that would even cross my mind when looking for somewhere to live. I guess it's something to consider if you're house-hunting in NOLA.
Our group stayed in the Bourbon Orleans Hotel, originally built in 1817. This hotel ranks as one of NOLA's top haunted hotels. It has a storied history as home to the historic Orleans Ballroom and Theater and then later a convent and orphanage which lends itself to many ghost stories.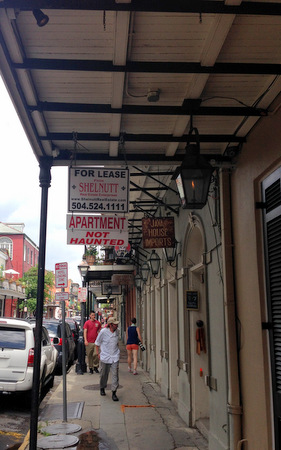 The most frequently told tale about the hotel's ghosts is that of a little girl rolling her ball and chasing it down the hallway of the sixth floor. While the hotel was a convent and orphanage a yellow fever epidemic hit the city and the ghost children and female apparitions are believed to be victims of the epidemic. Another story tells of a Confederate Soldier who lingers on the third and sixth floors of the hotel. The famous Orleans ballroom, home to the grandest social events of the 19th century, is reported to be home to a lovely ghost dancer who twirls beneath the ballroom's crystal chandelier.
Although one of our group swore she heard the little girl playing with her ball out in the hallway, I slept like a baby undisturbed by other-worldly spirits.
Here are a few more haunted locations you can check out next time you're visiting the Big Easy:
Arnaud's Restaurant – More than one waiter has been startled to see a gentleman dressed in a turn of the century tuxedo standing in the far left corner of the main dining room at the beveled glass windows. He seems to appear when the restaurant is at its busiest and most exuberant, smiling with a proprietary air. This is believed to be the ghost of Arnaud Cazenave, the French wine salesman who originally opened this landmark restaurant.
St. Louis Cemetery Number One – Listed on the National Register of Historic Places, it's considered by locals, visitors and paranormal investigators as the most haunted cemetery in the U.S.
Lalaurie House – This is perhaps one of the best-known haunted houses in the city. Located at 1140 Royal Street in the French Quarter, this was the home of a respected doctor and his fashionable wife. In 1834 when a fire broke out in the house, firefighters broke in to discover slaves, chained, beaten and maimed (some dead). It's said the house is haunted by the souls of these poor slaves.
Ask any local and they'll each have their own favorite ghost story they're happy to share. Or set aside time to take one of the many Haunted Tours of New Orleans. We still have space on our New Orleans Women-Only Culinary tour in May 2015, if you'd also like to pick up some tips on preparing good ole' Louisiana cuisine.
Embrace life,
Pat
To stay up-to-date on all things WanderTours, follow us on Facebook and subscribe to our blog via email or RSS.