Here are vacation and holiday tips for travel to Vietnam.
Capital Hanoi
Population 89,571,130 (estimated July 2010)
Time The entire country is 7 hours ahead of GMT, making it 7 hours ahead of London, 12 hours ahead of EST and 15 hours ahead of PST.
Language The official language is Vietnamese but many people speak English, particularly in the cities. Other popular languages include Chinese, Khmer and the tribal languages of the ethnic minorities. For English speakers, you will likely have little trouble communicating no matter where you go. Most people learn English in school and even in the most remove villages, there is usually someone who is willing to help you navigate (while you help them learn English!).
Visas Most visitors to Vietnam need a visa. It's best to apply in advance as it can be dicey to arrive in the country without one in hand. U.S. citizens can apply through the Vietnam Embassy. Read the instructions and costs carefully, it can be confusing. And more than one person I know has had a hangup with their visa because the wrong info was submitted or an incorrect dollar amount was sent.
Currency The currency is the dong. At this writing one U.S. dollar is valued at about 19.5 dong. The most common notes you'll see will be 100, 500 and 1,000. It's best to carry as small of denominations as possible. If you change money at the bank, insist on small notes (100 dong and less). Few people have change so shopkeepers, cyclo drivers, taxi drivers and food vendors will keep your dong rather than giving you change. You'll find yourself giving lots of big tips if you're not prepared 🙂
Food The food in Vietnam is quite flavorful, using mainly fresh ingredients in its
preparation. It's usually served without a lot of spice and you add your own using the condiments on the table. The food is also different depending on where you are in the country – the cuisine of the south is very different from the central region, which is very different from that in the north.
Accommodation There's a wide range of accommodations available in Vietnam, from backpacker hostels to 5-star hotels. Overall, hotels are cheaper than in Western countries but don't expect a deal at a 5-star.
Backpacker hostels may cost $6/night and up while private rooms in budget hotels will likely start around $15. A very comfortable, clean room can be found for about $30/night and often times this will include breakfast. Three to 5 star hotels might range anywhere from $75/night through hundreds of dollars.
Climate The best times to visit depend on where you'll be traveling within the country. In the south, the dry season is from December – April. In the central region, the dry season is from March – August. And in the north, the dry season is from October – December. January and February can be cold in the north but much of this tropical country stays warm.
Transportation and roads Getting around Vietnam is relatively easy. There are regular flights from north to south if you don't have a lot of time but there are also trains as well as both local and tourist buses. Motorbikes are ubiquitous throughout the country, though trucks and cars generally have the run of the road. If you're traveling by motorbike, you must wear a helmet (it's a relatively new law and it's a must for protection).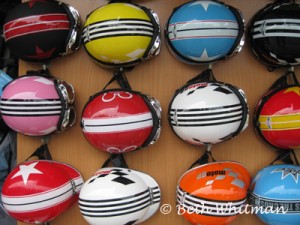 Shopping In the larger cities (Hanoi, Saigon and Hoi An, among others) there are plenty of souvenir shops. Whether you're looking for jewelry, clothes, artwork or knickknacks, there's ample opportunity to spend your dong. Prices are generally quite low but be sure to shop around and bargain before you purchase. Rarely is the first price a final price. It's a starting point. Some shops will have fixed prices but sometimes you can bargain if you are purchasing in quantity.
Holidays Tet is the main holiday celebrated in Vietnam. It falls during January or February (depending on the lunar calendar). Most shops close down during Tet and you might even find it difficult (and more expensive) to find a hotel or even a cafe open. Unless you have a burning desire to be there during Tet (which IS fantastic), you might consider going during an off season.
Packing for Vietnam As with any trip, it's best to pack as light as possible. No matter what part of Vietnam you are going to, it's likely that you'll encounter a variety of weather conditions. It's often warm, except for a couple of winter months in the north and in the Highlands. Carry warm-weather clothes and be prepared for rain with a poncho. Sandals and flip flops are worn by most Vietnamese. You'll be fine in a comfortable pair of these as well. If you'll be hiking or even doing a lot of walking, you might consider hiking shoes or other shoes that will provide some ankle support. Make sure they are broken-in to avoid blisters. Teva sandals or, my personal favorites, Keen Balboas will work well and these come in waterproof versions – perfect for unpredictable weather and muddy conditions. A light windbreaker or rain jacket will come in handy as well as a pair of cool long pants and/or a pair of capris (great for the warmer days). Shorts and tank tops are OK, especially in the south where it's really hot. Sunglasses and sunscreen are important, too.
Tap and bottled water It's best to avoid tap water in hotels, restaurants and homes. It's likely not purified. Consider brushing your teeth with purified or bottled water and careful not to swallow water in the shower. Rather than buying loads of bottled water, I prefer to use a SteriPEN to purify tap water and then fill up my own bottle. I use a vitamin packet such as emergen-C to mask the taste of the water itself 🙂
Power adapters Power plugs usually have 2 round pins. Purchase an adapter plug set, and you'll be set for travels around the world.
Internet and Wifi Internet cafes can be found most everywhere in Vietnam. And you'll likely be surprised by the number of hotels and cafes that offer FREE wifi. If you travel with a laptop or wifi-enabled phone or iPad, you can easily access the Internet.
Cell phones If you plan to use your own cell phone in Vietnam, there are 2 ways to do this. First, if it's GSM-enabled, you can use it as-is through your current carrier. Note that you will likely be paying A LOT per minute this way. And forget downloading email or using other data services for which you will be charged data roaming. Google it and you'll find lots of references to people coming home to thousands of dollars in charges because they checked their email, called their loved ones or surfed the web. Text messages are generally affordable if you're only sending a handful (AT&T doesn't charge for incoming but charges 50 cents per outgoing message). The cheapest way to use your own phone is to first make sure that the phone is "unlocked" from your local carrier (note that at this time iPhones cannot be unlocked). Upon arrival in Vietnam, you can buy a local SIM card which will give you access to the local carrier. Phone calls home and within Vietnam will be very cheap. If your phone can't be unlocked, simply buy a cheap phone for the trip either IN Vietnam or bring one from home (how many do you have in a drawer you haven't thought about in years?).