Scotland is a land of kilts, haggis and the Loch Ness monster! But did you know that it's also home to some of the most epic tales in literature? From the Scottish Highlands to the bustling cities, Scotland has inspired countless books that will take you on an adventure through its rich history and culture.
So, grab a cup of tea (or a dram of whiskey!) and let's dive into the world of Scottish literature.
*****
Outlander is a wild ride through time and romance. Set in Scotland in the 18th century, it follows the story of Claire Randall, a World War II nurse who is transported back in time to 1743, falls in love with a Highland warrior and is swept up in the Jacobite Risings. Full of action, romance and Scottish culture, it's a thrilling adventure that will keep you on the edge of your seat. Ye dinnae want to miss it, lassie! Available on Amazon.
And a bonus is that you'll visit many of the sites in "Outlander" on our Scotland Tour including Culloden Battlefield, Inverness and Blackness Castle (Fort William in the series)!
*****
The Outrun by Amy Liptrot is about one woman's journey to escape her demons and find solace on the remote Scottish island of Orkney. With equal parts humor and poignancy, Liptrot explores the stunning natural beauty of Scotland and the challenges of confronting personal struggles in a new environment. Available on Amazon.
*****
The Prime of Miss Jean Brodie by Muriel Spark, set in 1930s Edinburgh, is a witty and charming novel that tells the story of an eccentric schoolteacher named Miss Jean Brodie, who's turning the prim and proper Marcia Blaine School for Girls upside down. With her unorthodox methods and glamorous past, she's captivating her students, and maybe even herself. But as the saying goes, all good things must come to an end, and Miss Brodie's prime is no exception. Available on Amazon.
*****
If you're looking for a wild ride of family drama, Scottish humor, and a bit of mystery, buckle up for The Crow Road by Iain Banks. Prentice McHoan is a young lad who's trying to piece together the puzzle of his family's history, while dealing with a dose of romance, betrayal and existential angst. With quirky characters and a gorgeous Scottish backdrop, this book will take you on a journey you won't forget. Available on Amazon.
*****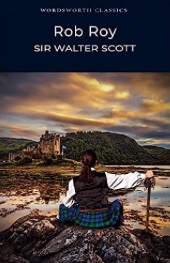 Rob Roy by Sir Walter Scott is a swashbuckling adventure story about an outlaw who steals from the rich to give to the poor. Along the way, he battles corrupt aristocrats, romances the ladies and defends his clan's honor. This tale of bravery and loyalty will have you cheering for Rob and his merry band of rebels from the Scottish Highlands. Available on Amazon.
*****
Sunset Song by Lewis Grassic Gibbon is a lyrical masterpiece about a young woman named Chris Guthrie who navigates the trials and tribulations of rural life in the early 20th century. She experiences love, loss and personal growth as she comes to understand her place in the world. With stunning prose and a relatable heroine, this novel is sure to leave you feeling inspired and moved. Available on Amazon.
*****
The classic spy novel, The Thirty-Nine Steps by John Buchan, takes place in Scotland and follows the adventures of Richard Hannay, who becomes embroiled in a conspiracy involving German spies during World War I. The book is a fast-paced adventure, with plenty of action, suspense and intrigue. Available on Amazon.
*****
Kidnapped by Robert Louis Stevenson follows the journey of young David Balfour as he is kidnapped, thrown onto a ship and sold into slavery. With the help of a fearless Jacobite rebel, Alan Breck, the two must escape treacherous plots and navigate the Scottish Highlands in search of justice and freedom. Available on Amazon.
*****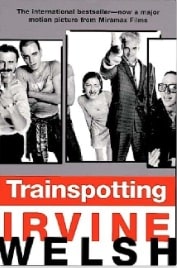 Set in Edinburgh during the 1980s, Trainspotting by Irvine Welsh, is a gritty and raw portrayal of Scottish life in the midst of the heroin epidemic. The book (and movie) follows a group of young friends as they struggle with addiction, poverty and the harsh realities of urban life. The novel's unconventional structure and use of Scottish dialect have made it a cult classic. Available on Amazon.
*****
The Road to the Isles by Derek Cooper is a hilarious travelogue of a group of misfits who journey through the Scottish Highlands in search of treasure, encountering kilt-wearing haggis and dancing to bagpipes along the way. Filled with descriptions of breathtaking scenery, historic sites and local customs and traditions and written in a witty and whimsical style, this book is a great read for all ages! Available on Amazon.
*****
The biography of Scotland's national poet, The Bard: Robert Burns, A Biography by Robert Crawford, offers a fascinating insight into the life and work of one of Scotland's most celebrated literary figures. It explores his poetry, politics and personal life and sheds light on the man behind the myths. Available on Amazon.
*****
The Highland Clans by Alistair Moffat is a fascinating exploration of Scottish clan culture taking readers on a journey through the history, traditions and legends of the Scottish clans. From the fierce battles of the Jacobite uprisings to the cultural traditions that still shape Scotland today, this book is a must-read for anyone interested in Scottish history. Available on Amazon.
*****
The Highland Clearances by John Prebble, a non-fiction book, explores one of the most significant events in Scottish history, when landlords forcibly removed Highlanders from their ancestral lands in the 18th and 19th centuries. It's a captivating account on the impact of the Clearances on the Scottish people, their culture and their way of life. Available on Amazon.
*****
The Scottish Islands by Hamish Haswell-Smith is a comprehensive guidebook to the bonnie isles of Scotland, filled with fascinating history, quirky characters and jaw-dropping landscapes from the Inner Hebrides to the Shetland Islands. It's filled with detailed maps and descriptions of each island, along with historical and cultural information. Available on Amazon.
*****
The Rough Guide to Scotland is your ultimate travel buddy. This is a comprehensive travel guide for exploring the bonnie land of kilts, castles and rolling hills. Get the inside scoop on Edinburgh's Royal Mile, the hipster scene in Glasgow and the rugged beauty of the Highlands. Includes insider tips to discover the best whisky distilleries, ceilidh dances and haggis spots to fuel your Scottish adventure! Available on Amazon.
*****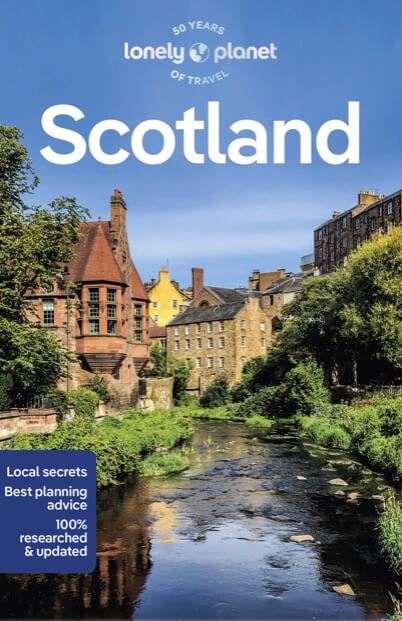 Lonely Planet Scotland extensively covers all the country has to offer, with recommendations for both popular and lesser-known experiences. Get your culture fix in Edinburgh, take in astounding views from the top of Ben Nevis and sample mouth-watering whisky on Islay; all with your trusted travel companion. Available on Amazon.