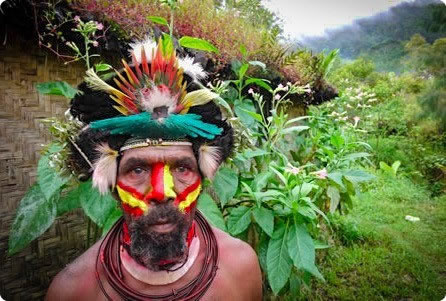 There aren't a whole lot of books out there about Papua New Guinea. Much of the material written about the country has been heavy textbook-like volumes that are, while I'm sure quite valuable, very boring.
Ironically, there's no other country that I think is more important to educate yourself about prior to a trip there. (And if you are interested in such a trip, see the WanderTours site for tours to Papua New Guinea.)
Despite the lack of books, I've read a number of them that I find to be completely captivating. If you have even an inking of interest in this half island nation, I bet you'll enjoy these as well!
*****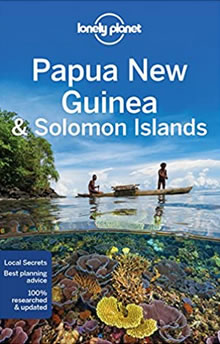 Lonely Planet Guide to Papua New Guinea – All research into Papua New Guinea should start with the Lonely Planet guide. In my humble opinion, however, these folks don't do enough to warn travelers of the potential dangers that come with traveling in the country though it is filled with easy to understand and well-written historical information. And it is crucial to understand the history of PNG in order to understand its present. That might sound cliche but because so much of the population lives as they have for thousands of year, you could say it's true of PNG like no other country. Available on Amazon.
*****
*****
The Last Men: Journey Among the Tribes of New Guinea by Iago Corazzo and Greta Roba – Hands down the best book ever on Papua New Guinea. It would be natural to think that a coffee table book filled with images would not offer much value in terms of insight into a country (I have a shelf filled with such books) but this one has the best written information about PNG than any book I've read, including the LP guide. Unfortunately, this is out of print and very expensive to purchase. BUT, if you ever find it at a bookstore near you, snap up a copy immediately! Available on Amazon.
*****
*****
Four Corners: A Journey into the Heart of Papua New Guinea by Kira Salak –
I'm going to gush here. Kira is my hero. She's done some crazy S#!@ in her travels and this memoir of her time in Papua New Guinea chronicles her adventures there. I would not travel the way she does, nor should anyone else try, but it's an incredible read – probably the best adventure book I've ever read and one that will definitely keep you hanging on the edge of your seat. Available on Amazon.
*****
*****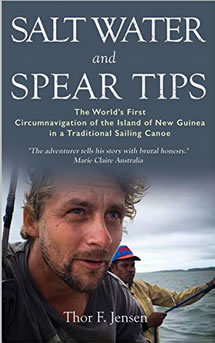 Salt Water and Spear Tips by Thor F. Jensen – Traveling around the island of New Guinea would not have been my first choice for an adventure given my lack of sailing experience. But that's exactly what author Thor Jensen did in 2016. He spent nearly 14 months on a traditional sailing canoe circumnavigating nearly 4,000 miles around the island–encountering monsoons, crocodiles, and pirates along the way. The most beautiful part of the journey was his ability to inspire local young people to better appreciate their own culture. Available on Amazon.
*****
*****
Village on the Edge: Changing Times in Papua New Guinea by Michael French Smith – Over many years, the author spent time in a tiny village on a small island near Wewak in the north. In this book, he includes his observations about how the country and culture is changing due to outside influences. I most enjoyed his quotes from the locals about what they think of the changes and how they are trying to hang on to their culture while accepting more modern ways of life. Available on Amazon.
*****
*****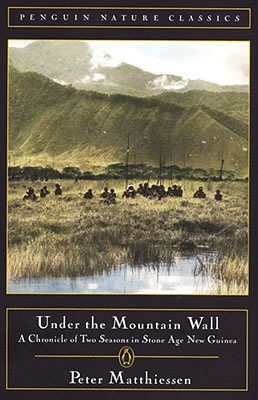 Under the Mountain Wall: A Chronicle of Two Seasons in Stone Age New Guinea by Peter Matthiesen – This book is a bit dense in terms of the content, but it is still an interesting read from an anthropological point of view. It chronicles Peter's two seasons of living with a remote tribe near the Irian Jaya border. It falls under the category of being a bit too heady for me, but you might like it if you enjoy a more scientific approach to the culture and country. Available on Amazon.
*****
*****
Birds of New Guinea – Of the few books available about the bird life of New Guinea, I like this one best. It's filled with photos and regional maps, and covers all of the birds on the island. Be forewarned that it's a heavy guidebook. But it's well worth it, whether you're a serious birder who wants a comprehensive guide on a trip while you're ticking off your bird life list, or you're more like me, using it as a reference to learn and to identify a bird here and there. Available on Amazon.
Interested in travel to Papua New Guinea yourself? Check out our co-ed tours to Papua New Guinea.