A Q&A with WanderTours participant Laila Prowten
Q. Do you consider yourself well-traveled?

I do not consider myself well traveled. Like many people I've been to Mexico and Hawaii, but never to Asia or Europe.
Q. Why did you choose to travel with WanderTours to Vietnam and Cambodia?
I had been researching a trip to New Zealand and Vietnam kept coming up as one of  the top 10 places to visit. In one of those articles Beth Whitman (owner of WanderTours) had commented, with a link to her website. What a great company to stumble upon! I was impressed with how organized your website is and how quickly my emailed questions were responded to. I chose Vietnam and Cambodia with WanderTours because of  the level of organization the company displays, the number and variety of activities included, the fact that a charitable organization is visited on each of the international tours and because I was constantly impressed with Beth and Pat's professionalism and friendliness.
Q. Were there activities on the tour that you might not have attempted if traveling on your own? Can you tell us about a couple of these experiences, why you enjoyed them and why you might not have done them on your own?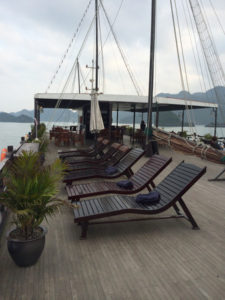 The schedule is well organized so that the time is used efficiently. On my own, I probably would not have done half of the activities scheduled on our trip. I would have slept in, gotten lost and spent time at the hotel pool.
In Hanoi the 54 Traditions Gallery was an amazing collection of cultural artifacts from Vietnam's minority groups and the co-owner Mark gave a wonderful, informative lecture. I would not normally go to that type of business on my own.
The reclining Buddha outside Saigon was one of my favorite experiences. I would never have traveled that far out of the city to see it if I had not been with the group.
I could go on and on about all of the unique experiences WanderTours enabled me to do.
Spending the night on the train ride to Sapa was really fun!
The traditional medicine museum in Ho Chi Minh city was a spectacular collection to see.
I went to food stalls in small back alleys I might not have been brave enough to find by myself.
Hoi An!!!!! I would have been quite happy to have been abandoned there. It was easily the highlight of my trip…
On the Mekong Delta and Halong Bay the boats we stayed on were so beautiful. I felt privileged to experience all of that natural beauty while staying in such plush accommodations.
In Cambodia I can easily pick my favorite moment. The sunset boat ride in the moat around Angkor Wat. That experience would not have been the same without the women on the tour and our shared appreciation of that moment.
It's asking a lot for me to pick just a few favorite things because it was all delightful. Thank you again for running a company that helps people explore communities in other parts of the world. I didn't just go on vacation with WanderTours. I was immersed in the communities, met the people, and received such an education from spending time with them. I am forever grateful for all of the experiences you facilitated me having by running such an amazing company.
Photo credits: Laila Prowten
Laila Prowten traveled to Vietnam and Cambodia with WanderTours in March, 2014. If you'd like to follow in Laila's footsteps, check out next year's tour.