WanderTours Santa Fe trip offers the opportunity to learn about culinary styles of Santa Fe and the southwest through visits with respected cooks and chefs. Corn, beans, rice, chiles of all sorts feature in the food you will learn about. You'll have the chance to explore to explore vegetarian food in Santa Fe on your own, too. Here are ideas to help you begin that exploration.
Cowgirl BBQ might not come first to mind when you are thinking of enjoying a vegetarian meal in Santa Fe. Their Five Pepper Nachos have been singled out for praise by the Wall Street Journal, though, and you will find a range of vegetarian choices for quesadillas, veg selections in the burger menu, vegetarian chili, plenty of side dishes, and for comfort food, a popular butternut squash casserole. The restaurant is in a hundred year old adobe a short way off the Plaza, and veg dishes are marked with a bright green leaf on the menu.
No need for menu markings at Annapurna's World Cafe: everything on the menu is vegetarian and much is or can be made vegan. When restaurant founder Yashoda Naidoo moved from India to New Mexico, she found she had to cook for herself as there was no place around which met her strict Ayurvedic dining requirements. She was soon asked to cook for others, and Annapurna's came to be. Many of the dishes are Indian, there are many creative veg combinations, and an extensive dessert menu as well. Menu items feature seasonal produce and include a South Indian Sampler plate, Masala Dosa, and Kitchari. In another creative combination there are burritos which use traditional Indian flatbread chapati instead of tortillas to hold the ingredients. Annapurna's is on Saint Michael's Drive.
The Plaza Cafe has been dishing up American diner fare and New Mexico favorites to Santa Fe residents and visitors since 1905. The menu includes dishes from the current owners' Greek heritage as well. Look closely at the menu and you'll find veg dishes among the meat offerings. You can have tacos filled with calabacitas (a form of squash), a Greek salad with feta and olives, fajitas with portabella mushrooms, or perhaps huevos rancheros with red and green (known in Santa Fe as Christmas) chile.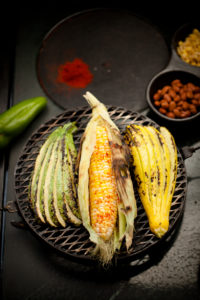 At Bumblebee's Baja Grill, you'll find an informal atmosphere and a menu which draws from New Mexican, Mexican, and American cooking. Tofu and Beyond Meat vegan chicken are offered among the choices to customize your taco or burrito. A rarity in Santa Fe, there is vegan tortilla stew (it's usually flavored with meat) and as a long simmering dish, it's not one a restaurant can easily customize for non-meat eaters. Other vegetarian friendly dishes include a whole range of vegetarian burritos and tacos and the choice to have any of their burgers with a vegetarian patty.
A brewpub might not strike you as a likely place for a vegetarian meal, but Second Street Brewery in The Railyard district has you covered. Starters include a New Mexico cheese plate and nachos you can customize by adding mushrooms. There is plenty of veg-based fare on the main menu too. Dishes include the Total Vegetarian, which includes sweet potato, quinoa, and fresh veg, a Smoked Portabella Wrap, seasonal vegetables, and green chile mac and cheese. At times your meal will come with a side of live music, as well. There are two other locations in Santa Fe.
Santa Fe has been a crossroads of cultures, trade, arts, and food for more than four hundred years. It still is. Seeking out vegetarian food in Santa Fe offers unique ways to explore those cultural intersections. Learn about Wandertours Santa Fe culinary trip where you'll meet up with chefs, cooks, and scholars, and have the chance to explore the tastes of Santa Fe on your own, too.
Photographs by Remcoosculiflowers/Pixabay and Tourism Santa Fe
Kerry Dexter writes about the arts, history and travel for print, online, and broadcast, as well as at her own site Music Road.