One of the highlights of our Santa Fe Culinary Tour is dining at the home of Chef Lois Ellen Frank. Lois—who has spent over 25 years researching the way of life of the southwestern U.S. tribes and the influence of Native American food on our daily cuisine—was born in New York, but now resides in Santa Fe. A Sephardic Jew on her father's side, she is a member of the Kiowa nation on her mother's…making her interest in native foods a natural fit.
The traditional southwestern Native American diet is one filled with wonderful foods focusing on local ingredients. As many of the country's top restaurants are now focusing on locavore menus, it's logical that many of them are merging the native influence with cuisines from other cultures. This is especially evident in Santa Fe, where the three staples of the Native American diet—corn, beans and squash—are found in many local dishes.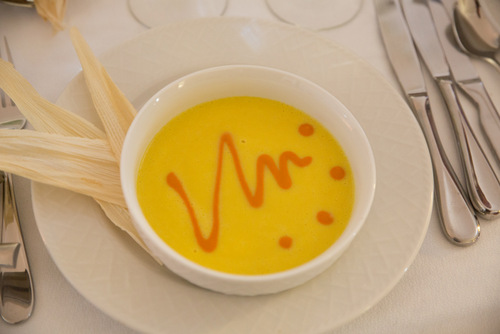 Many native chefs, including Chef Frank, are focusing on serving menu items from pre-colonization times—in other words, before the Europeans landed on our fair shores. This means dishes are cooked without processed or factory-produced ingredients such as white flour or sugar (definitely healthy!), and without domestically farmed meats such as beef, pork or chicken (cuts down on those greenhouse gases). Instead, you'll likely find game meats such as buffalo, rabbit, wild turkey or venison.
Native Americans had a vast knowledge of edible indigenous plants, making many dishes plant-based (go, Beth!) and healthy. A couple of the most prevalent native influences you'll find in southwestern cuisine are the use of blue corn (I can vouch that both blue corn pancakes and tortillas are delicious) and chilies, which are found in a multitude of dishes. Some chefs have also implemented native cooking methods in the creation of their dishes. One delicious example is the charring of peppers over an open flame, which introduces a mellow smokey flavor to a sauce or stew.
Lois's cookbook, Foods of the Southwest Indian Nations, won a James Beard Award, the first Native American book to do so. In addition to earning a PhD, writing, teaching and running her company, Red Mesa Cuisine, Lois is an instructor at the Santa Fe School of Cooking (also a stop on our tour). And, she's a professional photographer who has a wide variety of clientele. The night I dined at her home, I fell in love with her food posters…I just wish I had a larger kitchen so I had the wall space to hang them!
Our farewell dinner at Lois Frank's house was both delicious and informative…a fitting end to our culinary tour of Santa Fe! Although our 2016 tour has been sold out for months, we've recently had a cancellation, opening up one spot on this always popular tour. If you're interested in this, or any of our other tours, please contact us or call us at 1-206-317-1860.
Embrace life,
Pat
To stay up-to-date on all things WanderTours, follow us on Facebook and subscribe to our blog via email or RSS.
Photo credits:
Roasted corn soup, cookbook, group at table – Beth Whitman
Posters – Pat Awmack