By Rachel Diebel
Diwali, the Hindu festival of lights, is a magical time to visit India. It is the country's biggest celebration, and brings out a special beauty in this already beautiful country. Families make clay lamps and hang them outside their home, and draw beautiful designs called rangoli on their floors with colored powders and sand.
In addition to the visual beauty of Diwali, the festival has many traditional foods to try, but the real draw is the sweets. There is a nearly endless number of different desserts to try at Diwali, and it is customary to exchange beautifully decorated boxes filled with new sweets to try. Here are some Diwali treats to try whether you're on our India tour or even at home, if you're lucky enough to find them at specialty stores, know someone who makes them or even want to try making them yourself!
More about India: India Travel FAQs | What to Expect in India
Gulab Jamun
If fried food is more your style, give gulab jamun a try. These donut-like balls are made with milk and then fried and cooled in sugar syrup. They are often garnished with dried nuts to enhance the flavor. The sticky sweet syrup served with gulab jamun is flavored with cardamom, rosewater and saffron, like many mithai, or South Asian sweets.
Badam Halwa
A rich dessert made with ghee, pureed almonds, sugar and saffron, badam halwa is a little time consuming to make but definitely worth the extra wait. This bright yellow dessert has a pudding-like texture and is made during most Hindu festivals. The same ingredients that are used to make this delicious dessert can also be used to make a barfi, a kind of sweet, condensed milk bar usually decorated with silver leaves.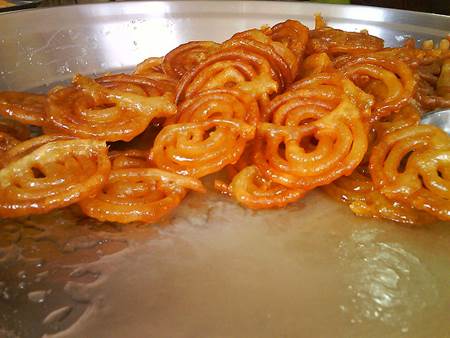 Jalebi
Another deep-fried treat, jalebi is fried wheat flour that has been twisted into pretzel-like shapes and then dipped into sugar syrup. The sugar crystallizes on the outside of the snack, giving it a tasty, chewy crunch. For an extra kick, citric acid or lime juice can be added to the wheat flour batter. Jalebi is a popular Diwali dessert, but is also often eaten during Ramadan.
Kaju Katli
Kaju katli is a kind of barfi—sweet, sugar-based bars made with cashew or almond paste. The paste is combined with dried fruits, left to cool in a shallow pan and then cut into diamond patterns. Kaju katli is often decorated with edible silver foil, and is one of the most common giveaways during Diwali, so be prepared to eat a lot of it if you're joining in Diwali festivities!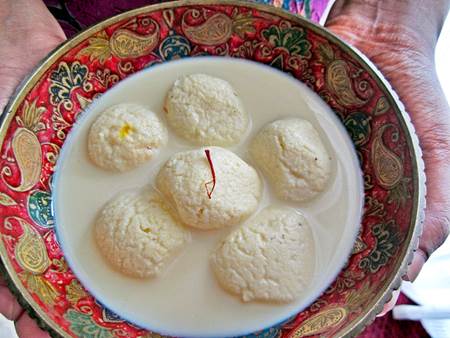 Rasmalai
Originally a Bengali dessert, rasmalai consists of soft paneer balls chilled and immersed in a creamy milk mixture. Paneer is a kind of unripened, homemade cheese, and chowing down on rasmalai has been compared to eating cheesecake, but without the crust! Of course, it wouldn't be an Indian dessert if it wasn't also flavored with cardamom and saffron.
Goan Nevri
One of the more savory (yet still sweet!) Diwali foods, goan nevri are dumplings made of flour and stuffed with coconut, sugar, almonds, poppy seeds and cardamom. These are a popular tea time snack, but can be eaten throughout the day. Making goan nevri is often a group affair, with each member of the family for friend group in charge of stuffing the crispy flour shells with one specific ingredient.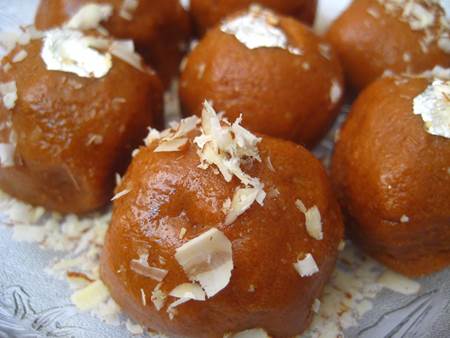 Laddu
Laddu are sweet dessert balls made from a variety of different flours, including chickpea, wheat and ground coconut. There are many different kinds of laddu and the different varieties are served at various celebrations. Boondi, or chickpea, laddu is served at weddings, and coconut laddu is given to warriors as a symbol of good luck, but besan laddu, made of chickpea flour, ghee, sugar and pistachios is the most popular for Diwali, as it has the longest shelf life.
Patishapta
Patishapta is a Bengali dessert very similar to a crepe, usually eaten for breakfast during Diwali. They are made with rice flour and maida (a kind of cake flour), and filled with a sweet, sticky, delicious coconut syrup. For an extra spicy twist, some people add cardamom to the coconut syrup.
*****
Photo Credits:
Gulab Jamun: Hari Prasad Nadig via Flickr
Jalebi: vaibhav ahuja via Flickr
Rasmalai: Divya Kudua via Flickr
Besan Laddu: Soniya Goyal via Flickr