"Would you like Christmas with that?"
Your first reaction will probably be, "Huh? What's that?"
You can expect to hear this question from your server at pretty much any of the southwestern-style restaurants in Santa Fe. Having 'Christmas' with your meal merely means you'll be served both red and green chilies on your plate. You can, of course, opt to have just one or the other if you'd rather. But you're in the southwest – home of the chili – and I recommend you try both (at least the first time).
Chilies are ubiquitous to Santa Fe and I loved seeing the strings of them hanging from the adobe outer walls of homes, drying in the heat of the desert sun. Enter any shop and you'll find chile powder – both red and green – of varying heats for sale. And beware, they definitely differ in heat! On a scale of 1-10, a jalapeno ranks about five and a habanero is a 10…so know which you're biting into! I came home with three different chili powders and some chili-coated pistachios – I bet you'll come home with at least one chili-related item.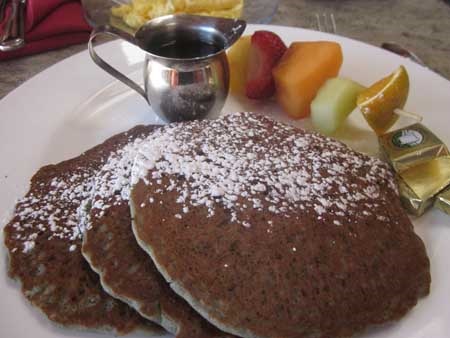 Blue Corn
Blue Corn was developed by the Hopi people and is commonly used throughout the southwest. It's an older, less hybridized type of corn than the white or yellow corn varieties; it's more nutritious than white or yellow corn and its blue color is due to antioxidants found within it. You can feel downright virtuous while enjoying blue corn burritos, enchiladas or pancakes!
A package of blue corn pancake mix makes a fantastic gift for someone back home.
Chile Con Queso
One of my favorite taste experiences while I was in Santa Fe happened when we took a mid-afternoon break at the Blue Corn Cafe. A cold glass of iced hibiscus tea and some chile con queso was just the thing! Chile con queso simply means 'chile with cheese' and it's served as a dip with tortilla chips. If you're like me and love cheese in pretty much any form, you'll love its gooey deliciousness.
Southwestern Dishes
If you've never eaten southwestern food, here are a few recommendations.
Enchiladas – a corn tortilla wrapped around a filling of meat, cheese, beans or veggies, covered in a chile sauce.
Tamales – a masa (corn-based) dough, wrapped around a filling, which is steamed or boiled in a leaf wrapper. We learned how make these in our cooking class at the Santa Fe School of Cooking!
Burritos – a wheat flour tortilla which is wrapped in a cylindrical fashion around a filling of meat, rice, refried beans, lettuce, tomato, salsa, guacamole and sour cream. There are many variations on the filling.
Although Santa Fe cuisine has much to offer and I loved every meal, one of the highlights for me, was a five-course native American dinner at the home of Lois Ellen Frank, a James Beard award-winning chef.
Our culinary tour also explores some of the outstanding bakeries and chocolate shops in the city. We make daily stops along the Santa Fe Chocolate Trail so that you can sample sweets from some of the best chocolatiers in the city. Watch for upcoming blog posts on restaurants of Santa Fe and the Chocolate Trail.
We recently announced our 2016 Santa Fe Culinary tour and it's filling quickly, so don't wait too long if you're interested in joining us!
Embrace life,
Pat
To stay up-to-date on all things WanderTours, follow us on Facebook and subscribe to our blog via email or RSS.