Before I began working at WanderTours, I'd heard of Bhutan and knew where it was…but that was about it. I now know enough to realize that it is on my list of places I hope to visit some day. From all accounts, it's a magical place, with its lively festivals and beautiful temples, its monks who will take the time to teach you how to meditate and its ubiquitous prayer flags fluttering in the mountain breezes. The majestic, snow-capped Himalayas present a stunning backdrop at every turn.
It's a place where you may very well run into the King as he attends one of the festivals or perhaps the royal family as they dine at a local restaurant. One of our tour groups actually ran into the King and Queen the day after their wedding as they visited a remote village.
It's not a mainstream destination. Bhutan has made a priority of preserving its ancient culture, religion and pristine landscape. While tourism isn't limited, a high daily rate is set by the government, which, along with a limited number of flights and hotel rooms, greatly reduces the number of tourists who visit the country.
(See offer below – we want to give you a chance to visit this amazing country in 2014!)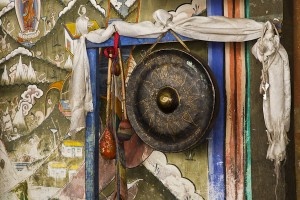 What should you expect if you visit?
Crisp, clean fresh air – from the moment you step off the plane in Paro you'll notice it!
Pristine landscape – enjoy spectacular views of the world's highest peaks and the rolling green lushness of the Paro Valley. Watch for yak grazing on the sides of the road and monkeys playing in the trees. Visit at the right time and you'll see the endangered Black-necked Crane which migrate from the Tibetan Plateau for the winter.
Gentle people – the majority of the population is Buddhist, practicing peacefulness and mindfulness. You'll likely see a lot of prayer beads as they recite mantras while walking.
Festivals – this is a country of festivals, with each district celebrating at some point during the year.
We have three tours to Bhutan in 2014. Book any of them on or before February 15th and you'll save 5% on the land portion of your trip. See conditions below.
April 5 – 16, 2014
Paro Festival Tour (women-only)
Highlights:
Hike to Tiger's Nest, the country's most-photographed monastery
Attend the Paro Festival – the country's most popular event featuring the unfurling of the country's largest thongdrel (banner)
Drive over Himalayan mountain passes (11,000+ feet)
Take light hikes in the peaceful beauty of the Himalayan foothills
Visit Punakha Dzong – considered the most beautiful monastery in Bhutan
September 15 – October 16, 2014

Snowman Trek (co-ed)
Highlights:
The challenge of a lifetime on this 25-day trek through the Himalayas
Views of picturesque snow-topped mountains and glacier lakes
Porters carry your gear (other than a daybag)
More people climb Everest than do the Snowman Trek – make this YOUR epic adventure!
October 3 – 14, 2014
Two Festival Tour (women-only)
Highlights:
Hike to

Tiger's Nest

, the country's most photographed monastery

Attend fantastic festivals in both

Thimphu

and

Bumthang

Take light hikes in the

peaceful beauty of the Himalayan foothills

Visit stunning

Punakha Dzong

– considered the most beautiful monastery in Bhutan

Walk through the Gangtey Valley, where

black-necked cranes

migrate from the Tibetan plateau
Also – every participant on a tour with a departure date in 2014 will receive a free Donner Bag ($65 value!) from Overland Equipment in her choice of color.
Terms & Conditions
Your tour deposit must be received on or before February 15, 2014 in order to qualify for the 5% discount.

Applies to new bookings only and only on the land portion of the tour.


Does not apply to bookings made through a travel agent.
Need more convincing? Give Beth a call (206-317-1860) and she'll share her enthusiasm with you – after all, she's been there eight times! There must be some reason she keeps returning.
Embrace life,
Pat
To stay up-to-date on all things WanderTours, follow us on Facebook and subscribe to our blog via email or RSS.