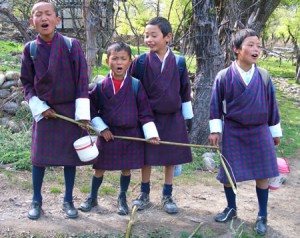 I sometimes feel that our everyday lives have become so cluttered and busy it's impossible to find time to just "enjoy" life. I woke up on Cyber Monday to 34 emails in my inbox, all of which were offers of fantastic savings on sales. I'm not a shopper so without even opening them I immediately hit delete, not reading a single one. How much time would I have wasted had I read them all? And do I really need a new iPhone, TV, pair of shoes or whatever? Is this really what life is supposed to be all about?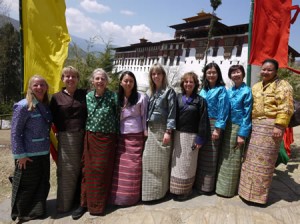 There is a country where you'll find a different attitude toward life, where national dress is compulsory; the use of plastic bags and tobacco is forbidden; and tourism is restricted. The tiny kingdom of Bhutan, tucked away in the Himalayas between India and China, has resolutely stuck to its guns and is fiercely determined to retain both its ancient traditions and to protect its pristine wilderness. Wealth is measured by happiness, not by how many "things" you own.
Strict Buddhists, the people are gentle and welcoming, often inviting you into their homes for tea, and simplicity and spirituality form the basis of life here. While there are such modern amenities as mobile phones and the internet, service can sometimes be spotty and unreliable. As we move from the frenzy of Black Friday and Cyber Monday into the continued frenzy of Christmas, I can think of nothing nicer than to escape from this endless daily barrage of emails enticing me to buy and buy.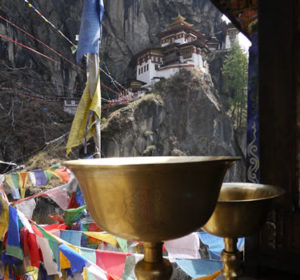 We've had many people return from a tour of Bhutan, saying that they feel different about life in general. It could be the soaring majesty of the mountains, the serene peacefulness of the countryside, the Buddhist vibe of the numerous dzongs (temples) and chortens or simply the friendliness of the people they've encountered…whatever it is, time spent in this remote destination has the potential to change your attitude toward life.
Our 2015 women-only tour to Bhutan was recently announced and we've begun taking reservations. We'll:
Hike to Tiger's Nest Monastery. Clinging to the side of a mountain, this is one of the country's holiest and most visually stunning sites.
Visit Punakha Dzong, one of the most beautiful fortresses in the country. It served as Bhutan's seat of government until the mid-20th century.
Walk through the Gangtey Valley in the hope of spying the black-necked cranes which migrate from the Tibetan plateau.
Attend the Jambey Lhakhang Drup tsechu (festival), where we'll watch the sacred midnight naked dance.
Two previous tour participants who've traveled to Bhutan with us have written blog posts on their experience. Here are links to Sabra's post and Barbara's post. Please contact us if you're interested in joining us in the Land of Gross National Happiness.
Embrace life,
Pat
To stay up-to-date on all things WanderTours, follow us on Facebook and subscribe to our blog via email or RSS.