At least twice a year we travel to Bhutan – one of our favorite places – and the ladies who join us arrive home feeling that they've experienced a life-changing journey. We're sharing a few pics of all the fun that we have in the land of Gross National Happiness.
It's fun to get dressed up occasionally, right? Especially when we're dressing in the national dress of the country we're visiting. We generally have one occasion that necessitates us getting dressed up (usually to attend a festival). Our guides are happy to share their finest with us. This is Barbara being dressed in national dress for women, a 'kira.'
Fancy clothing isn't necessary on our hikes, though.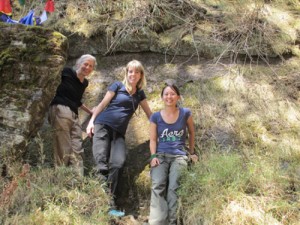 If you're not up to a hike, hop on a horse and let it do the work. Here's Clara ready to ride.
We take time out to sample the local brew and coffee.
On our visit to a local home we learn how to dance Bhutan style…
…and teach them how to do the Hokey-Pokey!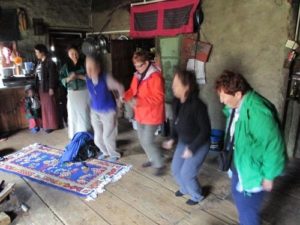 We explore the chortens at the top of Dochu La Pass (10,000 feet).
And pose in front of Tiger's Nest.
And, at the end of the tour we share some gifts from home with our wonderful guide and driver.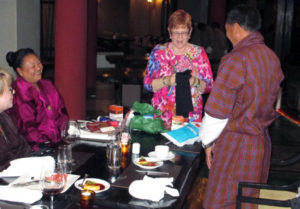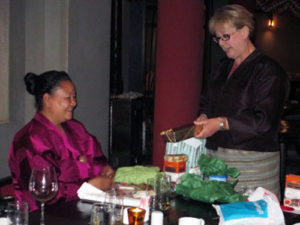 Interested in joining us in 2014? We have space available on our Bhutan Paro Festival (women-only) tour in April, Bhutan Festival (women-only) tour in October or, if you're up for the challenge of a lifetime, the Snowman Trek (co-ed) tour in September. Give us a call (206-317-1860) or Contact Us via email and we'll be happy to answer any questions you might have!
Embrace life,
Pat
To stay up-to-date on all things WanderTours, follow us on Facebook and subscribe to our blog via email or RSS.