By Megan Pooler
From market stalls to gourmet restaurants, Indian food brims with bold colors and fragrant spices. Cows are sacred to Hindus, so you won't find many beef dishes. Instead, look for lamb, chicken and flavorful vegetarian options. Whether you're craving a sweet treat or savory meal, you'll find dishes to satisfy every longing and leave you hungry for more.
Biryani
An ancient dish with variations across India, biryani is a rice dish with both vegetarian and meat variations. For the meat version, chicken or lamb is cooked separately from the rice. Then, the meat, rice and a mix of spices are layered into a round clay pot (think more Dutch-oven than tandoor), sealed and slow-cooked. Known for its spicy and floral aroma, biryani is often made with small amounts of jasmine, rose or saffron.
Ker Sangri
Ker sangri is a vegetarian dish native to the Rajasthan region. It is a staple at wedding feasts and may be part of a cooking demonstration on our North India tour. Sangri is a bean pod from khejari trees, which are known for their medicinal properties and ability to thrive in the desert. Sour ker berries are sautéed with sangri and spices, then garnished with fried garlic and coriander leaves to create this dish that is both spicy and tangy.
Murgh Makhani
Murgh makhani, also known as butter chicken, is loved throughout India. Many locals judge the quality of a restaurant by its ability to prepare murgh makhani. Chili powder, garam masala (a savory spice mix including pepper, cinnamon, cloves, cumin and coriander) and dried fenugreek leaves make the curry sauce for this perennial favorite mild and a little sweet. After marinating overnight in yogurt, tomatoes and this array of spices, the chicken is cooked in a tradition tandoor (clay oven). Flavors of warm spice and a hint of citrus are enhanced by a pat of butter melting into the dish upon serving.
Kakori Kebab
The Kakori kebab is said to have first been made for the noblemen of the city of Kakori and dates back to the Mogul empire (approximately 1520-1700). Famed for its tenderness, this lamb kebob is sweetened with a bit of dried papaya and spiced with green chilies, garlic and coriander. Grilled kebobs are a popular appetizer or small meal available in restaurants and from street vendors.
Chaat
Across India, chaat are a type of afternoon snack. Styles of chaat vary regionally, but all chaat balance salty, sweet and savory flavors. Many are made with chaat masala, a spice blend that, like garam masala, differs slightly from chef to chef, but usually includes cumin, chili powder and amchoor, a tart-sweet spice made from dried and powdered green mangoes.
On our North India tour, you'll visit Delhi's Chandni Chowk, a lively area full of street food vendors. Be sure to try paneer chaat, a favorite in this city. Paneer is a fresh, mild, soft cheese. When tossed with a chutney made of chilies, mint, turmeric and sesame oil, this bright and spicy snack will give you a boost to continue exploring.
If you choose to add Varanasi to the tour, you'll have a chance to try another form of chaat – palak chaat. Spinach leaves are chopped, formed into balls with chickpea flour and chaat masala, and then fried. This crispy, vegetarian snack is most often served with two different chutneys. Sweet and earthy tamarind chutney balances with spicy green chili chutney to complement an evening cup of tea.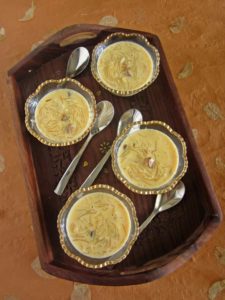 Diwali Sweets
While in Jaipur on our North India tour, you'll experience Diwali, India's Festival of Lights. It is customary to exchange sweets such as laddu and kheer during this celebration.
Kheer, the South Asian version of rice pudding, is often served with golden saffron during Diwali. The creamy treat is also garnished with sliced almonds and citrusy-spicy cardamom.
On the third night of Diwali, offerings of laddu are presented to the Hindu god Ganesh and goddess Lakshmi to ensure wisdom and prosperity for the new year. Throughout the festival, this popular treat is made of chickpea flour and ground coconut, which are rolled into small balls, then cooked in ghee (clarified butter) and finally dipped in powdered sugar.
Mango Lassi
If you're in Delhi in July, don't miss the International Mango Festival – a celebration of India's national fruit. In Hindu mythology, mangos symbolize spiritual attainment and joy. Try a mango lassi. A refreshing blend of plain yogurt, mango and often cardamom seeds, this sunny drink is sure to lift your spirits.
Darjeeling Tea
Darjeeling is often referred to as the "champagne of teas." Depending on what time of year the leaves are harvested, tea flavors vary from floral to woodsy. Look for a label from the Darjeeling Tea Association to ensure your tea, available in tea shops and restaurants across India, is grown in the historic Darjeeling region high in the Himalayas.
To stay up-to-date on all things WanderTours, follow us on Facebook and subscribe to our blog via email or RSS.
*****
Photo credits:
Biryani: Divya Kudua via Flickr
Murgh Makhani: stu_spivack via Flickr
Palak Chaat: T.Tseng via Flickr
Vermicelli Kheer: Divya Kudua via Flickr