By Rebekah Bresee
The beaches of Bali are world-renowned for their beauty and amazing surfing. The best time of year to enjoy these beaches is April through October, which is Bali's dry season. You may have time on your Bali and Java tour to sit back and soak up some vitamin D on these idyllic beaches. If you do, it will be time well spent.
Here are some of the best beaches in Bali to visit.
And if you're interested in more about Bali, check out: Facts about Bali | Off the Beaten Path in Bali | Highlights of Indonesian Cuisine
Kuta Beach
The big waves and strong currents draw local and visiting surfers alike to this beach. Kuta Beach is one of the more famous ones on Bali, giving it a lively and energetic vibe. That energy continues into the night as beach parties are often held right on the sand. Vendors, shops, restaurants and bars are only minutes away from the shoreline.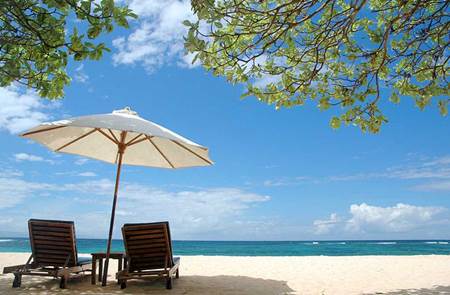 Nusa Dua
Like Kuta Beach, Nusa Dua Beach is also located in a touristy area, but is often less crowded than Kuta. The white-sand beach lies between the Grand Hyatt and Melia Hotel, and there are other resorts around at which you'll find restaurants and other amenities. The waves may not be large enough to attract surfers, but the calmer current allows enjoyable swimming and snorkeling. Palm trees and wild flowers decorate the beach, giving it an extra edge of paradise.
Mengiat Beach
Blue water, white sand and minimal vendors is what awaits you at Mengiat Beach. Though Mengiat Beach is located in the Nusa Dua area, it is less crowded than beaches such as Kuta Beach. It's also open to the public and doesn't require that you're staying at any particular resort. Local cafes line the beach—a convenient place to stop for a snack—and some of the cafes rent beach chairs for daily use.
Balangan Beach
If you're looking for a quieter beach, away from the tourists and busy locals, Balangan Beach is the place to go! The currents are strong and the waves high so it is not recommended for swimming (but there are times when the water is calm and you can swim). It would be a perfect spot for an afternoon picnic or a relaxing evening stroll along the white sands.
Bias Tugel
If you want to venture away from the touristy areas and find your own private paradise, go to Bias Tugel. Known as "Little Beach" to locals and "White Sand Beach" to tourists, Bias Tugel is only accessible after a half-mile trek down a rocky path. The beach lives up to its nickname. White sand contrasts against the blue sea, and coconut trees sway along the beach. The islands Nusa Lembongan and Nusa Penida can be seen in the distant. Snorkelers and swimmers may be lucky enough to see a sea turtle or two.
Lovina Beach
Located in northern Bali, Lovina Beach is a black-sand beach—perhaps a nice change of scenery from all that white sand at other beaches. It's less famous than other beaches and therefore usually not crowded. You can swim in the calm current or explore the thermal hot springs that are caused by volcanic water. A fisherman's village is located nearby with friendly locals and tasty cuisine. Visit the beach at sunrise, and you may be able to watch dolphins play!
To stay up-to-date on all things WanderTours, follow us on Facebook and subscribe to our blog via email or RSS.
*****
Photo credits:
Kuta Beach: tenz1225 via Flickr
Nusa Dua: Tanti Ruwani via Flickr
Mengiat Beach: Adhi Rachdian via Flickr
Balangan Beach: Tom Booth via Flickr
Bias Tugel: Vladimir E via Flickr
Lovina Beach: Sergey via Flickr