It's been a number of years since I was last in Bangkok, but I'll never forget the food I ate when I was there. Each dish was a symphony of flavors and textures. Depending on the order, there were subtle flavors of fish sauce, lemongrass, garlic, sweet soy sauce, basil or coriander or the not so subtle fiery heat of chilies. Crisp bean sprouts and bamboo shoots added texture to some dishes, while tender morsels of meat and silky smooth coconut milk enhanced others.
Many have the preconceived idea that all Thai food is spicy, but it's usually possible to find something to satisfy everyone's palate. Here are a few of the most popular dishes in Bangkok.
Read also: Fruit in Thailand | Shopping in Thailand
Pad Thai
Most people have tasted (or at least heard of) this dish. A combination of stir-fried rice noodles, egg, crunchy bean sprouts and onions, fish sauce, chili powder and chopped peanuts, it's often served with tofu, shrimp, beef or chicken.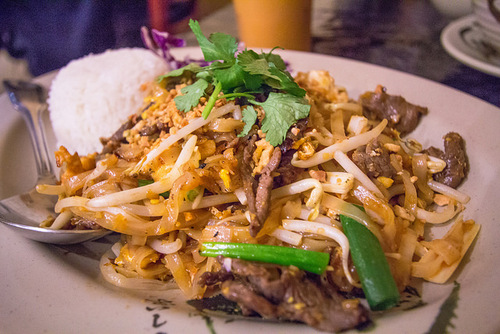 Som Tum
Spicy green papaya salad is a love it or leave it type of dish. While some love its sweet and sour spicy flavor, I find its bite a bit much for my taste. The salad is a combination of garlic, chilies, green beans, cherry tomatoes and shredded green papaya.
Khao Pad
Fried rice usually contains egg and a handful of herbs and not much else. Add a few veggies, prawns, some basil and chilies and this simple dish transforms into a mouth-watering lunch!
Pad Krapow Moo Saap
This basil and pork concoction is one of Thailand's most popular dishes. Although all of these dishes take a bit of prep time, they're actually pretty easy to prepare and I've made this one at home. It's made with lots of basil, ground pork, chilies, green beans and soy sauce. You'll often see it topped with a fried egg.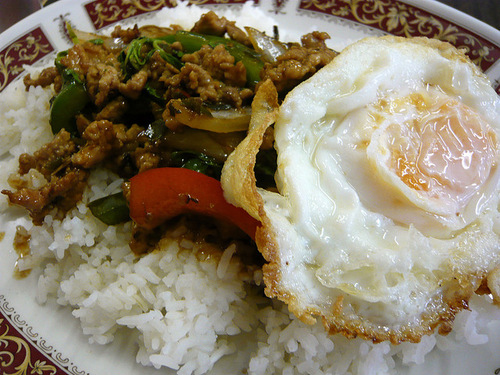 Tom Yum Goong
The sour, spicy flavors of this shrimp soup include lemongrass, chili, galangal (a root similar to ginger), lime leaves and juice, shallots and fish sauce. Shrimp and straw mushrooms add some body to the broth.
Red and Green Curries
Thai curries are made by blending red or green curry paste with creamy coconut milk. Small morsels of meat and vegetables are also added and depending on which curry you're making, condiments such as kaffir lime leaves, cilantro or basil leaves are sprinkled on top.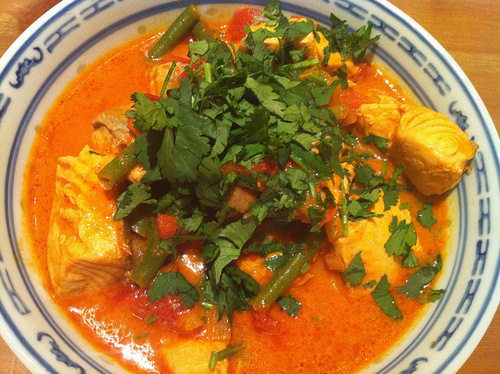 These are merely a handful of Bangkok's most popular dishes…there are dozens more. If you're hungering to taste them for yourself, watch for the upcoming announcement of our 2017 Thailand tour! Please contact us or call us at 1-206-317-1860 if you'd like to be notified when this tour becomes available.
Embrace life,
Pat
To stay up-to-date on all things WanderTours, follow us on Facebook and subscribe to our blog via email or RSS.
Photo credits:
Pad Thai – sstrieu via Flickr
Som Tum – Alpha via Flickr
Basil Fried Rice – Alpha via Flickr
Pad Krapow Moo Saap – Jessica Spengler via Flickr
Tom Yum Goong – Mr. kototo via Flickr
Red Thai Curry – Fred Steiner via Flickr
Thai Green Curry – prawncrackers via Flickr