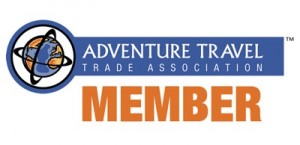 There are plenty of trade organizations in the travel industry and it's sometimes difficult to decide which ones will offer the most benefits to both WanderTours and our clients. This year we made the decision to become members of The Adventure Travel Trade Association (ATTA). The purpose of the ATTA is to "nurture and professionalize the responsible and sustainable development of the adventure travel industry."
While some may wonder if we're really an adventure travel tour company, we consider many of our tours to offer what's often referred to as "soft adventure." Trekking in Bhutan, exploring the highlands of PNG and visiting the hill tribes of northern Thailand definitely qualify.
How does our membership in this organization benefit you, the tour participant?
 Additional exposure for our company results in a wider client base, meaning you get to meet a diverse group of people when you travel with us.
Networking, access to research and educational webinars mean we're more in tune with what's going on in the world of travel. This means that we can make educated decisions about our tours and how to practice things like sustainability and responsibility to the environment, wildlife and people, while still allowing you to enjoy yourselves on tour.
If we can learn what the traveler is looking for, we can then tailor our tours to meet the demands of the traveling public.
What are the benefits to WanderTours belonging to ATTA?
Networking with other tour companies, industry partners and tourism boards allows us to stay on top of the most current happenings in adventure travel. Most people involved in the travel industry are passionate about their product and are out to share the fun, things we agree with.
We receive additional social media exposure through the ATTA Journalist Alerts as well as exposure to travel writers and PR opportunities. Although our returning tour participants know what we're all about, we like spreading the word to others.
Membership allows us to view the travel success stories of other members, see what works on other tours and allows us to borrow some of their best practices for our own use.
We have access to research reports and webinars on all kinds of relevant topics, which means we're better informed. This helps us stay up-to-date on "who is an adventure traveler" and "what is the adventure traveler looking for?"
We believe that belonging to such a professional organization lends us gravitas out there in the world of travel. People realize that we're here to stay and are serious about our business.
We think we've joined a great organization and believe that their goal of minimizing the negative impact of tourism on local communities and the environment is one we can definitely support. We hope you agree.
Embrace life,
Pat
To stay up-to-date on all things WanderTours, follow us on Facebook and subscribe to our blog via email or RSS.