Walking is the best way to explore somewhere new. It allows you to immerse yourself in the ambiance of your destination and jump feet first into the true essence of the place.
Arriving in a new destination can be a bit overwhelming. You don't know where anything is in relation to anything else and it's sometimes hard to figure out in which direction you should head. While it's tempting to hop on one of those hop-on hop-off tours—and there's definitely a time for that…in fact, I've done it many times, myself—sometimes it makes more sense to put on your walking shoes and just set off to explore. Earlier this year, I was in New York City for the first time and I walked for miles. I came home with a distinct sense of the city's atmosphere (as much as you can in one short week).
We spend a lot of time walking on most of our tours. Here are five reasons why.
You'll get up close and personal with the locals
Whether you're sauntering down the sidewalk in the East Village of New York or strolling the Friday night art walk in Santa Fe, exploring Pike Place Market in Seattle or meandering through the historic streets of the French Quarter in New Orleans, walking gives you the perfect chance to meet a few of the locals. You'll see them sweeping the sidewalks outside their shops, chatting with neighbors or taking out the trash. What's more natural than a friendly hello as you pass. I've never had more people greet me on the street than I did on Mother's Day in New Orleans. You'd be surprised at how quickly you feel like you belong!
Here's a local farmer giving a cooking demonstration at the Santa Fe Farmers' Market…
…and a local quartet entertaining art gallery patrons on the Friday night art stroll in Santa Fe.

On our recent tour to Indonesia, our group had a friendly encounter with a group of school kids.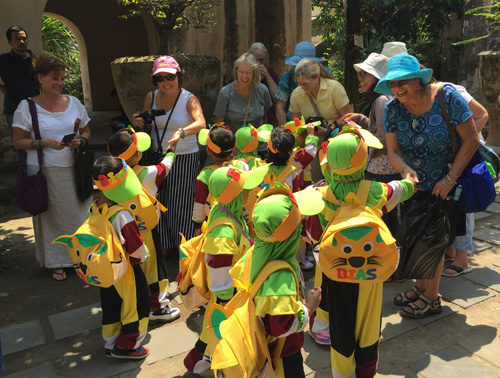 You'll have the chance to visit local attractions
Get a feeling for your destination by walking through local attractions such as farmers' markets or art galleries. Walking through the farmers' market in Santa Fe let me see, touch and taste the local produce…not to mention listen to and watch local entertainers.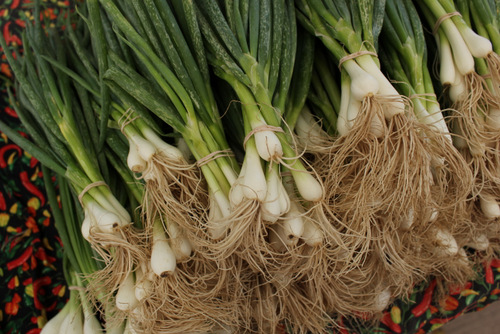 You'll have the opportunity look at your surroundings from a different perspective
As you walk around your destination, be sure to look both up and down. You'll see things that you likely wouldn't if you were on coach tour, in a cab or a car. Look up and you'll notice variations in architecture—whether you're passing ancient temples, soaring modern towers or gargoyles guarding a historic building. You'll also have time to stop and really look at that street art in detail.
You'll get some exercise
When you're traveling, it's hard to stick to your regular exercise routine, to say nothing of the hours you spend sitting in airports and on planes. Walking gives your body a chance to stretch, your blood to circulate and your lungs to breathe fresh air.
You'll be able to stop and take the time to smell the flowers…or take some interesting photos, whenever you want
Because you're exploring under your own steam and aren't subject to anyone else's timetable, you can stop whenever you want. I love taking photos and being able to stop whenever I see something interesting is important to me. Walking gives me that opportunity.
I would never have been able to stop and watch this Michael Jackson impersonator if I'd been on a bus.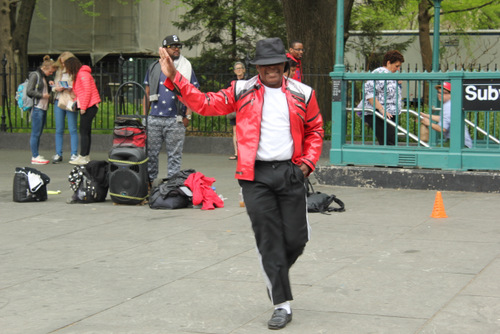 As I mentioned earlier, we like to take you on walks on most of our tours. If that appeals to you or if you have any questions about any of our tours, please contact us or phone us at 1-206-317-1860.
Embrace life,
Pat
To stay up-to-date on all things WanderTours, follow us on Facebook and subscribe to our blog via email or RSS.
Photo credits:
All photos by Pat Awmack