We're thrilled to be offering the first of our Wellness Retreats at Sunrise Springs Spa Resort in Santa Fe, New Mexico.
This tranquil resort is located close enough to Santa Fe to visit but far enough outside the city that you feel as though you are a world away. Seriously. The location is so quiet, it will take you just hours to decompress. And you won't want to go to bed because the night sky is so spectacular.
We'll stay on the Sunrise Springs property throughout the duration of our five-day retreat. During this time, participants will hear from a number of teachers on a variety of topics.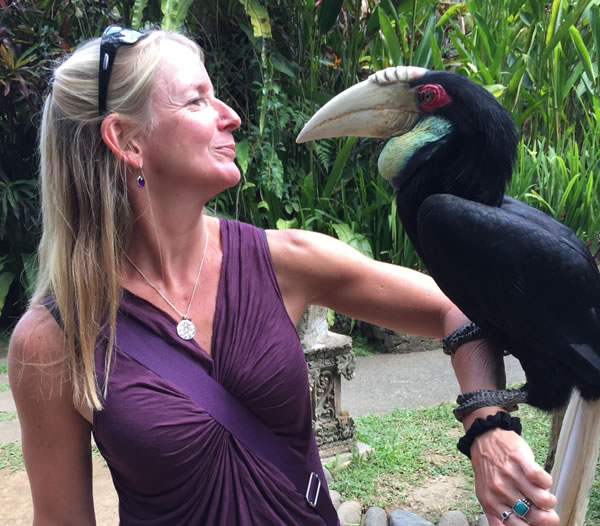 Here are some of these dynamic ladies:
Beth Whitman – Retreat organizer and speaker
You may know Beth as the Chief Wanderer of WanderTours and Wanderlust and Lipstick or as a speaker at one of many events around the U.S. and world. Beth will be overseeing the entire retreat, organizing each program/speaker/workshop as well as speaking herself.
Drawing from personal experience, she'll share with attendees her journey as a traveler, entrepreneur, health advocate and marathoner. Because she is ALL about travel, she'll also share with the group her experience and tips on how to travel healthy.
Beth is a regular meditator, Buddhist practitioner and is mostly vegan. Hers has been a life-long journey and she considers every day a teaching lesson in becoming a better version of herself.
Sally Fisher – Medical Doctor
Sally brings an unwavering passion for evidence-based integrative and nutritional medicine to Sunrise Springs. Her desire and intention is to have those she works with feel deeply that she is fully present, with warmth, humor, and knowledge, as she helps people to explore ways of enhancing their health and wellness. As a Clinical Assistant Professor at the University of New Mexico, School of Medicine, Dr. Fisher enjoys sharing her extensive training and experience in integrative, nutritional, preventive and functional medicine.
Sally will be talking on Food as Medicine. Included in this is a discussion of GI Health and how food and gut health are integrated to create a healthy gut (the microbiome).
Sally currently has a private practice in Albuquerque where she practices integrative, preventative and nutritional medicine.
Lois Ellen-Frank – Chef
Lois has a long resume and list of talents including chef, author, Native foods historian and photographer. Lois is from the Kiowa Nation on her mother's side and Sephardic on her father's side. Her first career experiences were as a professional cook and organic gardener.
Lois has spent over 25 years documenting foods and life ways of Native American tribes from the Southwest. This lengthy immersion in Native American communities culminated in her James Beard award-winning book, Foods of the Southwest Indian Nations. She has worked with world-renowned chefs, scientists and academicians and collaborated with them to publish many culinary posters and cookbooks. She has worked with National and International advertising agencies as well as many editorial clients as a chef and a photographer.
Lois will be leading the group in a hands-on cooking class at Sunrise Springs.
Brigita Lacovara – Culinary, Yoga and Meditation Teacher
Wellness and joy have always been an indicator of quality of life for Brigita. Thus, she was drawn to movement and good food from a young age. Raised in rural New Mexico, she was fortunate to be raised in a family where every meal was prepared from scratch and eaten at the table. Teenage dreams to become a pastry chef gave way to a university soccer scholarship and she received her BAFA in Art & Architectural History. Brigita's kitchen and restaurant experience began at Le French Corner bakery (now Clafoutis in Santa Fe) and she continued on to work at The St. James Tea Room, The Grove, The Love Apple, and several others.  After moving to Taos, she transitioned to farming and to managing CSAs and farmer's markets. Her food journey has revealed a deep passion for ancestral foods, fermentation, nutrition and geographical and cultural gastronomy. Brigita has also studied yoga, massage, herbology, feldenkrais, Chinese medicine, neurolinguistic programming and indigenous life ways. Brigita feels all aspects of her life and work to be interconnected, whether teaching a culinary class, offering energy work, or singing and moving. She attunes daily to the beauty in everything, experiencing deep gratitude for all.
*****
Given the amount of interest in this retreat, we're sure that it will sell out quickly. Please see the itinerary page and register early to secure your spot!